...the last, utter sweep which has no confines and which outreaches fantasy and mathematics alike.



From the direct statement of
CNN.com:
German astronomers say they have discovered conclusive proof of a supermassive black hole at the heart of the galaxy.
...or the poetic musings of
MSNBC.com:
Like ballerinas pirouetting around an invisible leader, a collection of stars orbits our galaxy's gravity sink, or black hole. New infrared images of the cosmic dance confirm that this supermassive black hole weighs as much as 4 million suns.
...only a congeries of iridescent globes, yet stupendous in its malign suggestiveness.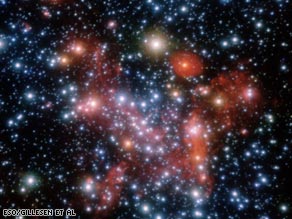 Yog-Sothoth knows all and sees all. To "please" this deity could bring knowledge of many things.
The study also enabled astronomers to calculate the distance of the earth from the center of the galaxy, now measured to be 27,000 light-years, and enhanced by six times the accuracy to which they were able to measure the positions of stars -- the equivalent of seeing a one euro coin from a distance of 10,000 kilometers (6,214 miles).
It seems that The Beyond One, The Gate Where the Hemispheres Meet is granting us some knowledge after all.