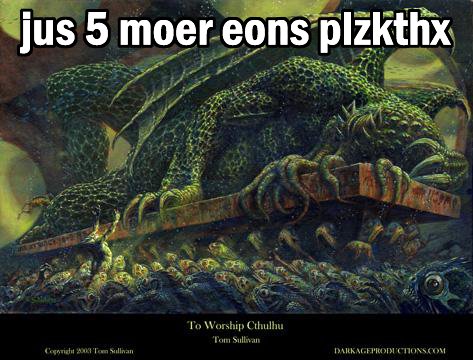 Image found at LOLTHULHU.com
...for me to start posting again regularly. What have I been doing? Oh, nothing much...hanging out, laying back, drinking rum, and watching the economy and auto companies spasm under the weight of money that has appeared miraculously from thin air that will never get paid back while pundits debate the merits of Latina judges and some crazy guy figures God will be cool with him shooting someone in church as long as that someone is a sinner. It's been entertaining.
In reality work/life has been coming at me quite hard and fast these last several weeks - I've barely had time to notice the above - and I still have seven more very fast-paced weeks ahead before I roll out of here. And THEN I will be laying back for a week on da' beach before reporting to my next duty. It turns out my
previous prediction
was incorrect - I won't be heading on my Rudyard Kipling adventure straight away but instead will be going back into an academic environment for ten months. THEN I will most likely head to "The Sandbox".
Oh...and I just got burnt out. When it stops being fun, you just need to stop doing it for a bit.
I should be able to start posting here and there in the coming weeks, and once I'm a stoo-dent again in August I should be able to pick things up some more. Which is good because I have some catching up to do -
Splotchy has a new story virus
that is incubating in my list of draft posts, and
nunly has tagged me
to post some of my favorite things. Plus, I've lined up a whole bunch of shit I have yet to conceive.
Should be fun. Stay tuned.